Update 20 March 2014. With the release of VMware ESXi 5.5.0 Update 1, this blog post is once again very popular. A lot of other articles, blogs and forum discussions have been using the Realtek R8168 driver link to my website, and this is starting to take an impact on my hosting provider. I therefore have had to removed the direct links to the R8168 & R8169 drivers on this page. These drivers are very easy to extract from the latest ESXi 5.1.0 Update 2 offline depot file which you can get from my.vmware.com . You just need to open the .zip file in a 7zip/winzip and extract the net-r8168 driver and use it with the ESXi Customizer.

Sorry for the inconvenience.
The ESXi 5.5.0 Build 1331820  that came out yesterday, did not include any Realtek R8168 or R8169 driver in it. So if your homelab ESXi host only has these Realtek 8168 network cards, you need to build a custom ISO.
The most simple tool to use is Andreas Peetz's (@VFrontDE)  ESXi Customizer 2.7.2 tool. The ESXi Customizer tool allows you to select the ESXi 5.5.0 ISO file and include into it a new Driver in .vib format.
You can then download and extract the VMware Bookbank NET-R8168 driver from vSphere 5.1 ISO or download it from the following link for your conveniance.
VMware_bootbank_net-r8168_8.013.00-3vmw.510.0.0.799733
VMware_bootbank_net-r8169_6.011.00-2vmw.510.0.0.799733
Launch the ESXi Customizer and build your new .ISO file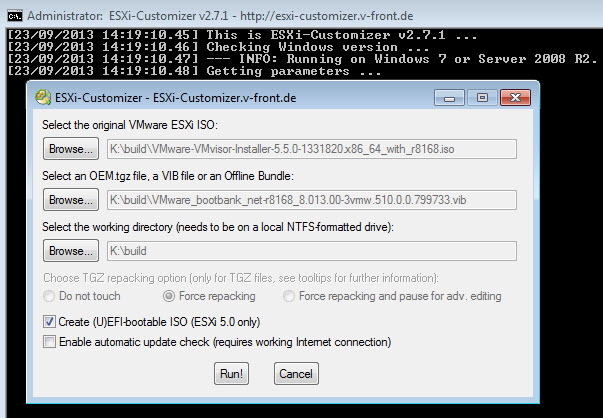 This will create a ESXi-Custom.ISO file that you can burn to a CD and use to install vSphere 5.5 on your host.