A few days before VMworld 2013 Barcelona, I started the VSAN.info website to documents VSAN configurations, list whitepapers, redirect people to VSAN resources, and VSAN implementations. And it's been a bit quiet since then on the surface. Well I've been working in the background to push a new feature, the VSAN Community HCL.
One of the features I wanted to add to the VSAN.info site from the get go, was a VSAN Community Hardware Compatibility List. Equipment and configurations on this list would not appear on the official VMware VSAN HCL. Now starting such a list is a very large endevour, that needs dedicated resources, probably lots of management, user management, password management, moderators. In short a lot of things to make sure that I don't find the time to keep it up and going. Good will in new projets only take it so far, before it would have died slowly… So why try to re-invent the wheel ?
What other better place to host such a VSAN Community HCL than the offical VMware Community website in the Community Hardware Software forum. Yes, now you can head to the Community Hardware Software (CSHWSH) forum and check out which hardware & software can be used to run a VSAN environment.
Here is the direct link to View All the entries for VSAN Beta on the CSHWSW Forum. You can then select the Infrastructure to list all the vSphere 5.5 or VSAN Beta entries.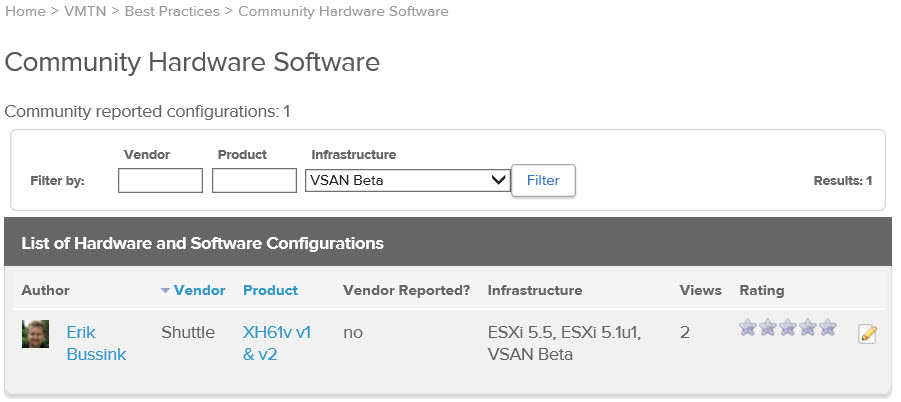 When you click on the entry you will be able to see the Configuration Tested field that explains how I have designed and configured this small VSAN node.

It is now time to populate the Community Hardware Forum with your VSAN Configs.
This modification of the Community Hardware Software forum, would not have been possible without the help of Corey Romero (@vCommunityGuy) and the team managing the Communities Forums, and I also want to Thank John Troyer (@jtroyer) and Mike Laverick (@Mike_Laverick) that help facilitate my contact with Corey Romero. To all of you… THANK YOU...